I am pleased to inform you that my new novel " Télémaque, esclave en Bretagne " has been published by the French collection of literature Amarante (L'Harmattan).
In 1757, some years before the French Revolution, a young slave disembarked at a small Breton village, before being handed over to the priest of Plouénan so that he can teach him the precepts of the Catholic Church.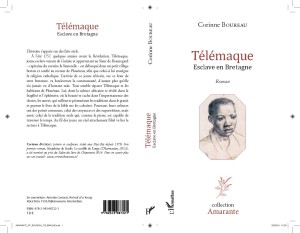 A black man born on the coast of Guinea belongs to Mr. Pierre François de Beauregard lieutenant of the king's Frigates previously captain of " La Sauterelle" of Brest, having been given him by the captain of the Irish ship " The Cumberland" named Henri Berkirit taken by the aforementioned corsair as it appears from the statement made by the said Mr.de Beauregard at the Registry of the Admiralty of Brest, July 14, 1757, not having been previously baptised being informed of no religion and may be about twenty years old, he was declared under the name of Télémaque.
Signing sessions bookstores :
 June 10 – 2016 – Quimperlé : bookstore Penn da Benn – 10.30 / 12.30
 June 11 – 2016 – Saint-Pol-de-Léon : bookstore Livres in Room – 10.30 / 12.30
 June 17 – 2016 – Audierne : bookstore Ar Vro – 17 th
 June 18 – 2006 – Quimper : bookstore Ravy – 16.30
https://corinneboureau.nl/wp-content/uploads/2016/05/Unknown.jpeg
1426
1839
Corinne Boureau
https://corinneboureau.nl.server18.firstfind.nl/wp-content/uploads/2014/09/corinneboureau_logo.png
Corinne Boureau
2016-05-09 16:40:18
2016-05-10 13:46:43
New novel